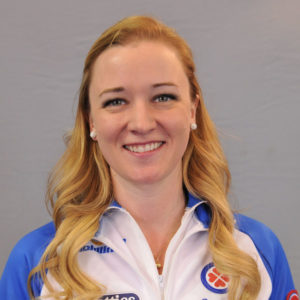 Chelsea Carey of Winnipeg, Manitoba has formed a Saskatchewan-based curling team for the 2021-22 season. According to the Canadian Press on Wednesday, the team will also include third Jolene Campbell, second Stephanie Schmidt, and lead Jennifer Armstrong.
Carey won two Scotties Tournament of Hearts representing Alberta. The first in 2016, and the second in 2019. However, the 2019 team that was skipped by Carey has been disbanded. Carey's third Sarah Wilkes, is now the second for Rachel Homan, and Carey's front end players Dana Ferguson and Rachelle Brown, are now with Kelsey Rocque.
Carey is the second Canadian skip to form a team this month. Earlier this month, Pat Simmons announced he is coming out of retirement to form a new team based in Manitoba. He has aligned with third Colton Lott, second Kyle Doering, and lead Tanner Lott. Colton Lott is a mixed doubles specialist.
Speaking of mixed doubles, Canada now has a record of five wins and two losses at the World Mixed Doubles Curling Championships in Aberdeen, Scotland. Over the last two days, Canada has won two games and lost two games. On Wednesday, Canadian Olympic gold medalist Brad Gushue of St. John's Newfoundland and Kerri Einarson of Gimli, Manitoba teamed up to beat South Korea 8-3 and Italy 6-4, and lost to Australia and Scotland by identical scores of 8-5. Gushue won a gold medal in men's curling at the 2006 Olympic Winter Games in Turin.