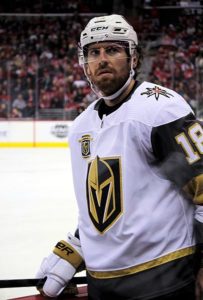 James Neal of Whitby, Ontario registered his ninth career hat trick and second hat trick of the season on Tuesday night. Neal scored three times in a 7-5 Edmonton Oilers win over the New York Rangers at Rogers Place in Edmonton, Alberta.
Neal scored his first goal at the 11 second mark of the first period from Zack Kassian of Windsor, Ontario and Oscar Klefbom. It was the opening goal of the game and put the Oilers up 1-0. Neal then put the Oilers up 2-0 at 8:46 of the first period with a power play marker from Ryan Nugent-Hopkins of Burnaby, British Columbia.
Neal then registered his hat trick at 13:23 of the second period on the power play from Connor McDavid of Richmond Hill, Ontario and Nugent-Hopkins. At the time, the Oilers went up 5-0.
Three Canadians had a multi-point game for the Oilers. Neal actually had a four point game as he added an assist on a goal by Leon Draisaitl. Nugent-Hopkins also had a four point game as he had one goal and three assists. Meanwhile, Jujhar Khaira of Surrey, British Columbia notched two assists. Meanwhile, Josh Archibald of Regina, Saskatchewan also scored for Edmonton.
In 42 games, Neal has 19 goals and eight assists for 27 points. He is a -23 with eight penalty minutes, 17 power play points, two game winning goals, 93 shots on goal, eight faceoff wins, 11 blocked shots, 52 hits, 16 takeaways and 20 giveaways.
Neal's first hat trick this season was a four goal game against the New York Islanders in a 5-2 Oilers win on October 8. He has four career hat tricks with the Pittsburgh Penguins, two hat tricks with the Nashville Predators and one hat trick with the Dallas Stars.
The Oilers move back into a playoff spot with the victory. At 21 wins, 17 regulation losses and four losses in extra time, they have 46 points. They have one more point than the Calgary Flames for the eighth and final playoff spot in the Western Conference.