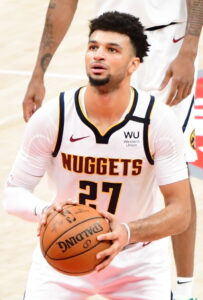 The Denver Nuggets lead the 2023 NBA Finals two games to one. On Wednesday in game three of their best out of seven series from Kaseya Center in Miami, Florida, Jamal Murray of Kitchener, Ontario set the record for most points scored by a Canadian in a single NBA Finals game. Murray had 34 points as the Nuggets beat the Miami Heat 109-94.
Murray broke the previous record set by himself and Andrew Wiggins of Toronto, Ontario. Wiggins had 26 points in game five of the 2022 NBA Finals in a 104-94 Golden State Warriors win over the Boston Celtics on June 13, 2022. Murray had 26 points in game one of the 2023 NBA Finals in a 104-93 Nuggets win over the Miami Heat on June 1, 2023.
In game three of the NBA Finals on Wednesday, Murray made 12 of 22 field goals, three of six three pointers and seven of eight free throws. He also had a triple double as he had 10 rebounds and 10 assists. Murray was one of two Nuggets in the game with a triple double, as Nikola Jokic had 32 points, 21 rebounds and 10 assists.
For Murray, it was his second career triple double in the regular season or playoffs. He previously had 17 points, 14 assists and 10 rebounds in a 134-111 Nuggets win over the Indiana Pacers on January 20, 2023.