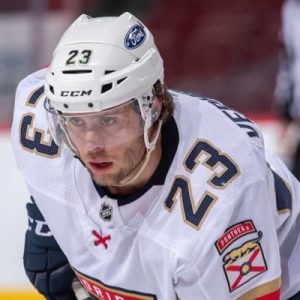 Florida Panthers center Carter Verhaeghe of Hamilton, Ontario scored his fourth career National Hockey League Stanley Cup playoff overtime winner on Thursday. He scored from Sam Bennett of Holland Landing, Ontario and Gustav Forsling at 4:27 of the extra period as the Florida Panthers beat the Vegas Golden Knights 3-2 in game three of the 2023 Stanley Cup Finals from FLA Live Arena. With the win, the Panthers won their first game of the series, but still trail the best out of seven encounter two games to one. This was the Panthers's first ever win in the Stanley Cup Finals in franchise history.
Verhaeghe led the Panthers in scoring with two points as he had one goal and one assist. He was also one of two Canadians to score for the Panthers. The other was Brandon Montour of Brantford, Ontario, who opened the scoring in the first period.
Verhaeghe's first two playoff overtime winners came in the Panthers's first round series win in the 2022 Stanley Cup playoffs over the Washington Capitals. He scored in game four of the series in a 3-2 win on May 9, and then in game six of the series in a 4-3 Panthers win on May 13. Verhaeghe's third Stanley Cup Playoff winner came on April 30, 2023 in a 4-3 Panthers win over the Boston Bruins in game seven of the first round playoff series.