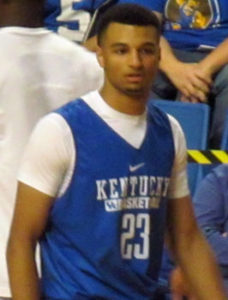 This has been quite the playoff series for Jamal Murray of Kitchener, Ontario. Murray, the star guard for the Denver Nuggets, has shown remarkable skillset over the last week in generating offense.
On Sunday, Murray helped the Nuggets keep their season alive with a 119-107 win over the Utah Jazz in the Orlando bubble by scoring 50 points for the second time in the series. He previously reached that mark on August 23. The difference that night was the fact that Donovan Mitchell scored 51 points and the Jazz came away with a 129-127 win.
However Murray's offensive stretch has made NBA history. With his 42 points in game five on Tuesday in a 117-107 Denver win, Murray now has 142 points in his last three games. The only two players to have scored more points in three consecutive playoff games are Jerry West of the Los Angeles Lakers (145 points in 1965), and Michael Jordan of the Chicago Bulls (143 points in 1988).
According to ESPN, Murray is also the first NBA player since Jordan to have three consecutive 40-point games in a single series. Jordan did it four straight times during the 1993 NBA Finals as the Bulls beat the Phoenix Suns in six games. Murray is also only the second player in the last 20 years to have three 25 point halves in a single playoff series. Allen Iverson achieved the mark for the Philadelphia 76ers against the Toronto Raptors in 2001. Game seven between the Nuggets and Jazz is Tuesday.