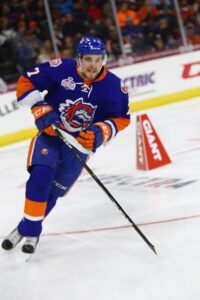 According to nhl.com, the New York Islanders traded defenseman Devon Toews of Abbotsford, British Columbia to the Colorado Avalanche on Monday. In return, the Avalanche received the Islanders' second round draft picks in the 2021 and 2022 National Hockey League Entry Drafts.
In 68 games in 2019-20, Toews had six goals and 22 assists for 28 points. He was a +1 with 16 penalty minutes, six power play points, one game winning goal, 122 shots on goal, 75 blocked shots, 55 hits, 32 takeaways, and 57 giveaways. This past year he set career highs in goals, assists, points, power play points, shots on goal, blocked shots, hits and takeaways.
Toews's lone game winning goal this past season came in a 3-2 Islanders win over the St. Louis Blues on October 14. The goal actually came in overtime and completed a comeback where the Islanders once trailed the Blues 2-0. Mathew Barzal of Coquitlam, British Columbia and Brock Nelson notched the assists on the Toews goal.
In his career, Toews has 39 more giveaways than takeaways. However he was a plus player at +8.
This was the second trade the Avalanche have made over the last four days. On Monday they acquired left winger Brandon Saad and defenseman Dennis Gilbert from the Chicago Blackhawks for defensemen Anton Lindholm and Nikita Zadorov.