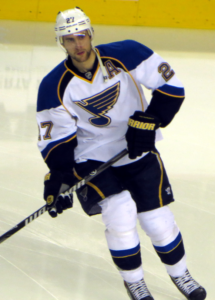 The Vegas Golden Knights are now a force to be reckoned with in the National Hockey League for the foreseeable future. On Monday, the Golden Knights signed Canadian Olympic gold medalist Alex Piertrangelo of King City, Ontario from the St. Louis Blues to a seven year contract worth a whopping $61 million according to Rogers Sportsnet.
The gold medalist from the 2014 Olympic Winter Games in Sochi, Pietrangelo spent 12 seasons with the Blues and won a Stanley Cup with St. Louis in 2019. Over the last four seasons, Piertrangelo was also the Blues captain.
Pietrangelo automatically becomes the best defenseman in Golden Knights history. What makes him so valuable is his ability to completely shutdown the opposition, and in recent years provide consistent offense. Heading into free agency, Pietrangelo, the two-time all-star, was recognized as the most coveted player on the entire market.
In 2019-20, Pietrangelo had 16 goals and 36 assists for 52 points in 70 games and was a +11. He also had 20 penalty minutes, 22 power play points, three game winning goals, one shorthanded point, 225 shots on goal, 89 blocked shots, 47 hits, 43 takeaways and 45 giveaways. Pietrangelo had career highs in goals and shots on goal, and tied a career high with six power play markers.
Pietrangelo's three game winning goals came in a 3-2 Blues win over the Toronto Maple Leafs on October 7, in a 2-1 Blues win over the Minnesota Wild on October 30, and in a 5-2 Blues win over the San Jose Sharks on December 21. Pietrangelo's shorthanded assist this past season also came in a Blues win. It was on a goal by Ivan Barbashev on November 6.