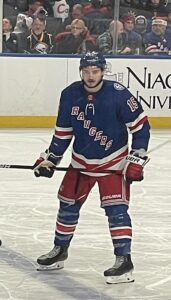 According to Rogers Sportsnet on Wednesday, the New York Islanders signed right winger Julien Gauthier of Pointe-aux-Trenmbles, Quebec to a two-year contract worth $1.6 million. The Islanders are the fourth team Gauthier has played for following one season with the Carolina Hurricanes, four seasons with the New York Rangers and one season with the Ottawa Senators.
In 2022-23, Gauthier shared his time with the Rangers and Senators. In 57 games, he had nine goals and five assists for 14 points. All of Gauthier's 14 points were even strength. Gauthier was a -6 with six penalty minutes, 53 shots on goal, three faceoff wins, 13 blocked shots, 105 hits, 13 takeaways and 10 giveaways.
Gauthier was initially a first round pick, 21st overall, in the 2016 National Hockey League Entry Draft. He only played five games for the Hurricanes before being traded to the Rangers for defenseman Joey Keane on February 18, 2020. Gauthier was then traded by the Rangers to the Ottawa Senators with right wing prospect Nicholas Vantassell for centre Tyler Motte.
Julien Gauthier's uncle Denis was a NHL defenseman who played a decade in the NHL with the Calgary Flames, Phoenix Coyotes, Philadelphia Flyers and Los Angeles Kings from 1997 to 2009. Julien and Denis both represented Canada at the World Junior Hockey Championship.