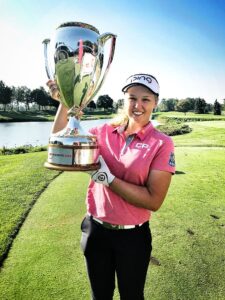 Brooke Henderson of Smiths Falls, Ontario is in 13th place, but only three strokes back of the leaders, Hyo-Joo Kim of South Korea and Xiyu Lin of China at the 2023 United States Women's Open in Pebble Beach, California. Henderson is at -1 after a first round score of 71. In the opening round on Thursday, Henderson had four birdies and three bogeys. She birdied the second, sixth, 16th, and 18th holes, and bogeyed the third, eighth, and ninth holes.
Lin and Kim are tied for the lead at -4. Kim is a major champion as she won the 2014 Evian Championship in France. That is one of two major titles Henderson won as she won the 2022 Evian Championship and the 2016 Women's PGA Championship as her two major titles.
On Thursday, Henderson was placed in a marquee group which included two-time major champion and world number three Lydia Ko of New Zealand, and American phenom and two-time NCAA Women's Golf Championship winner Rose Zhang of the United States. Of the three, only Henderson was under par as Zhang was +2 and Ko was +4. Ko could be in danger of missing the cut as she is in 83rd place. Ko really struggled on the par three fifth hole, where she had a quadruple bogey.