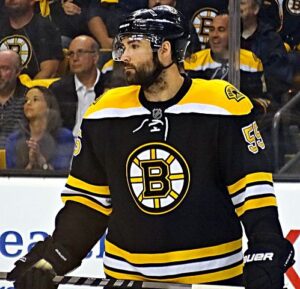 According to nhl.com, National Hockey League defenseman Johnny Boychuk of Edmonton, Alberta, announced his retirement at age 36 on Wednesday. The reason for the retirement is because Boychuk suffered a serious eye injury on March 3 against the Montreal Canadiens.
Boychuk has reportedly lost some of his peripheral vision after his eyelid was cut by a skate. Even though he was wearing a visor, he needed 90 stitches to stop the bleeding.
When the National Hockey League returned to play for the postseason, Boychuk did play three games for the Islanders in the Stanley Cup Playoffs. However he was continuing to have some vision problems, and after further tests, some of the damage will be "irreversible."
This was the second serious eye injury Boychuk had in his NHL career. While playing for the Boston Bruins against the Vancouver Canucks on February 6, 2010, he broke his orbital bone after being hit with the puck in the side of the head. From that point forward, Boychuk wore a visor.
In 64 games with the Islanders in 2019-20, Boychuk had two goals and nine assists for 11 points. He was a -11 with 14 penalty minutes, one power play point, 96 shots on goal, 128 blocked shots, 135 hits, six takeaways, and 50 giveaways.
In Boychuk's career, he played 13 seasons with the Colorado Avalanche, Boston Bruins, and Islanders. In 725 games, he had 54 goals, 152 assists, 206 points, was a +123, with 331 penalty minutes, 35 power play points, eight shorthanded points, 12 game winning goals, 1547 shots on goal, three faceoff wins, 1326 blocked shots, 1475 hits, 136 takeaways, and 410 giveaways.