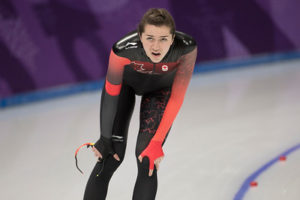 Two Canadians landed on the podium on Friday in the women's 3000 metre speed skating World Cup in Minsk, Belarus. Isabelle Weidemann of Ottawa, Ontario won the gold medal and Ivanie Blondin of Ottawa, Ontario won the bronze medal.
Weidemann posted a winning time of 4:04.679. Carlijn Achtereekte of the Netherlands won the silver medal with a time of 4:05.153. Blondin won the bronze medal with a time of 4:06.08.
Weidemann reached the podium by 1.72 seconds over Martina Sablikova of the Czech Republic, who was in fourth place with a time of 4:06.404 seconds. Blondin reached the podium by 0.32 seconds over Sablikova.
This was the first women's 3000 metre World Cup of the season. Weidemann generates 60 points for winning gold and Blondin receives 48 points.
This was Weidemann's second career World Cup victory and eighth career medal. She previously won gold in a women's 3000 metre World Cup race in Tomakomai, Japan on November 25, 2018. For Blondin, it was her 37th World Cup medal in events that have Olympic status.
This is the first of five International Skating Union World Cup speed skating competitions in the 2019-20 season. The others are in Tomaszow Mazowiecki, Poland from November 22-24, Nur-Saltan, Kazakhstan from December 6-8, Nagano, Japan from December 13-15, and in Calgary, Alberta, Canada from February 7-9.