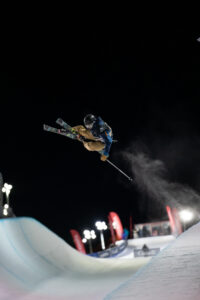 Heading into the 2022 Olympic Winter Games in Beijing, the Canadian Olympic freestyle skiing team has an incredible amount of depth. Among the athletes is World Cup men's halfpipe leader Brendan Mackay of Calgary, Alberta. Here is my interview with this Canadian Olympian.
JF:When someone says you are one of the world's best halfpipe skiers, what is your reaction?]
BM: 'It takes me a few seconds to process, and I still don't know if I believe it. I feel like I still have so much to prove and work on with my skiing. I'm honoured competing with all of the top halfpipe skiers in the world and hope to inspire some kids to do the same."
JF: This is a very talented Canadian freestyle skiing team. How meaningful are you to be a part of it?
BM: "Being a part of the Canadian Freestyle Team, and especially the halfpipe team is incredible. I looked up to my current and past teammates growing up and am honoured to be a part of this team now. I have only been able to achieve what I have in skiing because of the guidance and support they've given me over the years. I hope that I can leave a positive impact on the younger generation of halfpipe skiers who take my place, as my predecessors did for me."
JF: How much confidence did you get from your success at the Calgary halfpipe from the World Cups at the beginning of the month?
BM: "It definitely gave me a ton of confidence, especially when it comes to competing in adverse and challenging weather conditions. With that being said, a few of the athletes who I would consider to be the top contenders at the Olympics were not at the Calgary World Cups, and those who were in Calgary will be more likely to take big risks at the Olympics. So, while it has given me a ton of confidence in my ability to put down competition runs, I still feel like an underdog heading into the Games."
JF:Is there one particular trick you are trying to work on in order to get better?
BM: "I've been working on left and right double cork 1620s which are what I'd consider to be the cutting edge of halfpipe tricks currently. I haven't done either of the tricks in contest and hope to unveil either or both at the Olympics. The level of technicality that some of riders have in their competition runs is incredible, and I'm doing my best to show up with the highest level of skiing I can."
JF:Has it been challenging for you to train at a high level when we are currently in a pandemic?
BM: " In general, I have gotten use to training during a pandemic. Whether it be the constant covid testing, or inability to see friends from other countries on trips. After almost 2 years of it, it's starting to feel normal. With that being said, these final few weeks heading into the games is serious. The team is in as tight of a bubble as we can be and are doing our best to stay safe prior to the games. I just made the decision to pull out of the X Games to minimize the risk of covid, which would've otherwise been a great opportunity for some final competition prep work. With that being said, we are very lucky to have a fantastic halfpipe to train at in Calgary, allowing myself and my teammates time to dial everything in for the Olympics."
The men's halfpipe skiing final is February 18 at 7:30 pm MT.