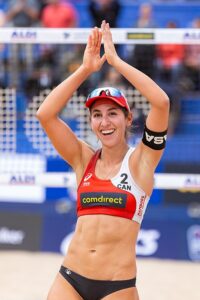 As the 2020 Olympic Games in Tokyo are approaching this week, I am thrilled to share with you a short interview with Canadian women's beach volleyball stars Sarah Pavan of Kitchener, Ontario and Melissa Humana-Paredes of Toronto, Ontario. The 2019 World Champions in women's beach volleyball are setting their sights on the biggest tournament of their careers. They begin their Olympic tournament on July 23 against the Netherlands.
Q: In 2016, both of you changed beach volleyball partners. Why did you think it was important to make a change at that time?
A: SARAH: The end of an Olympic cycle is always the logical time to make a partner switch. The beach volleyball relationship is very important, so having time to establish a good foundation as a team before qualification for the next Olympics begins is crucial. I am in the sport to win, and I felt that my former partner and I had reached our ceiling as a duo. We also had never won. After watching and observing Melissa for several seasons on the World Tour, I felt that her skill set complemented mine and I had a feeling that we would have good potential together.
MELISSA: For me personally it was a combination of knowing that my team had plateaued and it was time for the both of us to move on, coupled with being asked by Sarah to play with her that led to a change. It was a no-brainer for me.
Q: Why does the beach better suit your style of play more than indoor volleyball?
A: SARAH: I'm not sure. I would say that beach volleyball better suits my style of play than indoor. I played indoor for most of my life, including many years on our indoor National team and pro overseas. I made the switch to the beach simply because our indoor team wasn't qualifying for the Olympics and I wanted to represent Canada on that stage. That being said, I love the tactical aspect of beach volleyball compared to indoor. With only two people on the court, beach volleyball is more of a chess match, and that really suits the way my mind works.
MELISSA: I've always been better suited for the beach game. My physique aside, I grew up playing beach first (the unorthodox route), so I became more well-rounded, learning all the skills at an early age. My physique allows me to be quick and agile on sand and jump well. I'm definitely more of a flow player, with a high volleyball IQ, so I preferred the rhythmic movements of the beach game and I wasn't suited for the straight power of the indoor game. I also am much more attracted to the atmosphere of beach volleyball. It's very much like a family.
Q: The United States and Brazil are traditionally the best countries in women's volleyball. They also have numerous training facilities they can go to because of their favourable weather. What are some of the training strategies your team tries to implement to counter their advantage?
A: SARAH: Since we began our partnership we have lived and trained in Los Angeles. Being in Los Angeles allows us to be outside year-round and have access to numerous high-level training partners.
MELISSA: Prior to moving to Los Angeles, we would often have to train indoors all year round until the season started. So we would start at a disadvantage at the start of most seasons, with training camps mixed in to give us some exposure. Not having a solid domestic tour (which most top countries have) is also a disadvantage. Hopefully we'll get there one day!
Q: What can you take away from your World Championship title that will help you in Tokyo?
A: SARAH: Winning isn't always pretty or straight-forward, and there were many times during the World Championships that our backs were against the wall. Despite that, we found ways to score points when we had to, and we learned how important it is for us to lean on each other in those tough moments. Those lessons will serve us in a big way in Tokyo.
Q: If there is one thing you would like Canadian sports fans to know about each of you, what is it?
A: MELISSA: I've travelled all over the world and Canada truly is my favourite place.