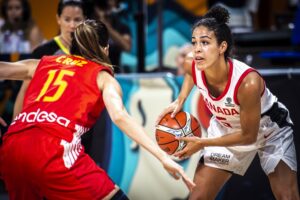 Historically in the women's basketball tournament at the Olympic Games, the United States have dominated. Since 1976, the Americans have won eight of 11 Olympic gold medals. Canada's best performance was a fourth place finish at the 1984 Olympic Games in Los Angeles.
At the last two Olympic Games, Team Canada has qualified and reached the quarterfinals each time. At the 2012 Olympic Games in London, Canada made the final eight but got smoked 91-48 by the United States. Then at the 2016 Olympic Games in Rio de Janeiro, Canada won three of five games in Group B, before losing 68-63 to France.
The face of the Canadian women's national team is Kia Nurse of Hamilton, Ontario. The point guard for the Phoenix Mercury of the WNBA is averaging 9.7 points per game and 3.7 rebounds per game in 19 games this season. The former first round pick in the WNBA Draft by the New York Liberty in 2018, is best known for guiding Canada to a gold medal victory at the 2015 Pan American Games in Toronto. In the championship game, Nurse had 33 points in a 81-73 win over the United States.
At the 2020 Olympic Games in Tokyo, Team Canada is in Group A, where they will play Serbia on July 26 at 2:20AM, South Korea on July 28 at 7PM, and Spain on July 31 at 7PM. The top two teams from each group, and the top two third place teams are in the quarterfinals. The Canadian goal this time round will to find a way to not only reach the quarterfinals, but win a quarterfinal game. Teams expected to give Canada the biggest challenge are two teams in their group–Spain and Serbia, the defending Olympic silver and bronze medalists respectively. Canada will also be seriously challenged by France and Australia.
The quarterfinals will be on August 3 at 7PM and 10PM MT, as well as 2:20AM and 6AM on August 4. The first semi-final will be on August 5 at 10:40 PM MT and the second semi-final will be on August 6 at 5AM MT. The bronze medal game will be at 1AM MT on August 7, and the gold medal game will be at 8:30pm MT on August 7. Unlike men's basketball, the gold medal game in women's basketball will be played after the bronze medal game.