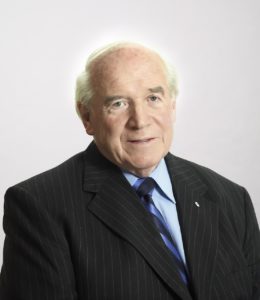 Doug Mitchell's impact to Canadian sport is extremely significant. From 1984 to 1988, he was the commissioner of the Canadian Football League. Mitchell has also been on the National Hockey League Board of Governors, and in 1993, established the Borden Ladner Gervais Awards, which recognizes the top university athletes in Canada. It should also be noted that one of the two Canadian University Football semi-final games is the Mitchell Bowl. It is played at the more western location of the two games on an annual basis. Also at the Canadian amateur sports level, Mitchell has been on the board of the Canadian Olympic Foundation, chair of the Calgary Tourism Sports Authority, and played a significant role in reestablishing Hockey Canada and developing a Canadian National Men's Team for the 1980 Olympic Winter Games in Lake Placid.In October, Mitchell will be inducted into Canada's Sports Hall of Fame. Here is my interview, with Doug Mitchell.
Q: Looking back at your sports career, what was the greatest moment that you ever experienced?
A: "One of those greatest moments was a very strange moment. I was on a hockey scholarship to Colorado College. I thought I could get back to school early and not stay in Saskatchewan and work as an engineer if I played football. Well, I phoned the coach and asked him if I could have a tryout. He said 'no'. He said they had a full roster, were going to have a great team and win the Rocky Mountain Conference, but I could walk on. I asked 'what does that mean?' He told me what walk on means. I walked on and made the team. My coach was shocked, and from then on became a football player. (Mitchell went on to play for the British Columbia Lions as a tackle in 1960). It changed my whole future."
Q: You have had a huge role in Canadian sports across the board. How meaningful is it that you had such an impact on university athletics in Canada?
A: "What university athletics needs is more people from the outside to get involved in administration and to get involved with the teams. I think the Canadian universities need help in bringing everybody together. They need to be more glued and work together. People are prepared to do that, but are not asked. They need to communicate more with the outside business world."
Q: How much of an impact has your role with BLG made to Canadian sports overall?
A: "We have tried to accomplish two things. One is recognition of the athletes and second is recognition of the quality of the sport. Thirdly, to kids who want to play university sport, to stay in Canada. I think it has worked to a degree. It has not worked to the point where we would like it to, but I think it has helped getting people focused. We have great sports in our universities."
Q: What was your greatest experience being the commissioner of the Canadian Football League?
A: "It was a different lifestyle. I had been practicing law for 20 years. It was very narrow in its professionalism. I then got into the community and business community. Quite frankly, I think it had a major impact. When I came back to my law firm, I had seen many of the national law firms. I made up my mind and recommended we become a national firm. It wasn't easy. However, it is what I saw in Toronto as a CFL commissioner. Relationships were so important."
Q: How meaningful is it for you to be inducted into Canada's Sports Hall of Fame?
A: "Well, it was one of those things I never thought of. Even when my wife became the lieutenant governor of Alberta, we did not run any campaign. We let the outside people do the nominations. I am thrilled."