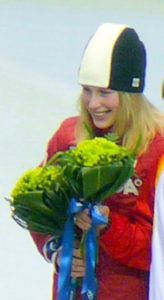 In the sixth of ten interviews of high performance Canadian athletes who have a serious chance of winning a medal at the 2018 Olympic Winter Games in Pyeongchang, I am thrilled to share with you my interview with three-time Olympic silver medalist Marianne St-Gelais of Roberval, Quebec. St-Gelais won her silver medals for Canada in the women's 500m and women's 3000m relay in short track speed skating at the 2010 Olympic Winter Games in Vancouver and in the women's 3000m relay at the 2014 Olympic Winter Games in Sochi. St-Gelais has also had international success in South Korea as she won the gold medal in the women's 1500m at the 2016 World Short Track Speed Skating Championships in Seoul.
Q: You have won three Olympic silver medals in your career. How meaningful would it be for you to win Olympic gold?
A: "It would mean a lot. It is in our head when we are training. Everything that we do is because of the gold medal that we want to achieve. It would mean a lot and I hope I do everything to come back with a gold medal."
Q: Looking back at your 2016-17 World Cup season, you were able to win two individual gold medals in one day in Dresden, Germany. How much confidence did you take away from that result?
A: "The World Cup is different than the World Championship. It does not always have the same opponents in each of the distances. At that World Cup, (world champion) Elise Christie of Great Britain was injured, so she didn't skate. So I focused more on my technique and my tactical stuff. It is hard to focus on the result when you know that the best is not there.
I was proud with the gold medals. I pushed my limits and worked on things (I wouldn't normally), and put me in a good position for the world championships (silver in 500m, 1000m and 1500m). That is what I was the most proud of (from the World Cup in Dresden)."
Q: How comfortable were you with the Gangneung Ice Arena, where you won a silver and bronze medal?
A: "I was feeling great. I was feeling good. It is always nice to compete in a test event because we get to see the environment. I was feeling great and feeling excited at the same time. It was my third test event. It's always different. It allowed me to put myself in the excitement of the Games. I was feeling confident. It was good practice for the 2018 Winter Olympics. I was also trying not to change my plan in my mind. I had things to do to be sure everything is going to be alright. If the medals don't come at the end, I will still be proud of what I did. I am happy that the results came (two medals) at the end of the day."
Q: Canada has a very deep women's short track speed skating team. What can you tell me about Kim Boutin, Marie-Eve Drolet and Valerie Maltais?
A: "Yeah we are a strong team and it is really nice to see because I have been there for a long time. I saw those girls improve every year. Valerie and I started skating at the same time (both had their first Olympic Winter Games in Vancouver in 2010). We are both from the same part of Quebec. We've been on the Canadian Olympic team twice together. It's precious. We have a good relationship. It's nice to share those moments with her and nice to have her on my side even if we are competing against each other. At the end of the day, we are proud in what we do. It is because of that, the team is strong. It's not about yourself. It's about the team too because we have to race altogether.
Marie-Eve is the oldest. She is the mama of the group. She is always there cheering for us. She is there to see the situation differently even if it is the end of the world. Marie-Eve always tries to see the positive. She is our arms when we want to cry and she is our joy when we are not happy. She really is our mom.
Kim is the youngest, the rookie of the group. She brings something different. She brings fresh energy and fresh everything. At the end of the day, that's ok. We need that because we want to still be young, accurate and always on top of the game. Our team is strong because we all have different personalities and backgrounds. At the end, we are just one team." (Since conducting the interview with Marianne in June, Marie-Eve Drolet retired from short track speed skating, to focus on her two year old child).
Q: It was also a great World Cup year in 2017 for Great Britain's Elise Christie and South Korea's Shim-Suk Lee. What will it take to beat Lee on her home ice and Christie?
A: "Physically we are all strong. Physically we are all the same level. The difficult part is tactical. So, I always have to be a movement ahead. I have to be aware of what is happening in the race. When they are in front of me, the race is not done, but I realize I have to do something really good. We have to be ahead of them. We have to control the race. We have to show them that we're strong. (We need to take the approach) if we're in front, you won't pass. They are the same kind of skater. Tactically, they are really looking around. They are really into the race. That's why I have to improve over the next few months. At the end of the day, the one that is the smartest will win. I want to be the smartest."
Q: One of the most magical highlights from the 2010 Olympic Winter Games in Vancouver was your excitement when Charles Hamelin did well. In your opinion, does he have a great chance of winning Olympic gold again in Pyeongchang?
A: "For sure. Charles is always working so hard. It is not by luck that he is still there at 33 years old. He is working so hard. He has his passion. Every single day he is going to the rink and keeping in mind that he could be a gold medalist again at the Olympics. Charles is still chasing something. He does not yet have an Olympic gold medal in the men's 1000m. If he could, he would skate until he had that title. Charles also still does not have the overall world championship title. For everything that Charles has done in short track speed skating, he is missing two things. He is chasing to achieve those things. I see him every day. I still feel his passion. He is committed to his sport. He is committed to his team and I am his number one fan. He is my boyfriend. I have not seen many athletes like him, and we see so many athletes, not just in short track speed skating, but other sports. He is an incredible person and an incredible athlete. I will be there cheering for him."
Q: What are your goals this upcoming short track speed skating season?
A: "I want to come back with a gold medal for sure from the 2018 Olympic Games. I am training for that. I have had that goal for the last two years. I honestly think I can do it, which wasn't the case in the past Olympics. If it is not by myself, I think we can achieve it as a team. We think we can go for the gold. Canada also has the World Short Track Speed Skating Championship in Montreal. So why not win a world championship at home and end my career with a world championship title? I have a lot of expectations this year. It's my year. What I mean by that is I am turning 28, and everything will be set for that year. I have a lot of experience. This will be my third Olympic Winter Games. I have been through a lot. We've done everything. We've worked so hard. It's almost the end, so I feel like everything is there for me to perform. I am really excited to go through this year because I think wonderful things are going to happen."