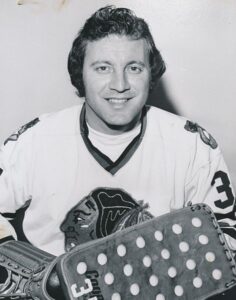 Hockey Hall of Fame goaltender Tony Esposito of Sault Ste. Marie, Ontario, has passed away at the age of 78. According to Andrew Seligman of the Associated Press on Tuesday, the cause of death was pancreatic cancer.
Esposito played 16 seasons in the National Hockey League with the Montreal Canadiens and Chicago Black Hawks. In 886 games, he had a record of 423 wins, 306 losses, and 152 ties. Esposito also had a goals against average of 2.93 and a save percentage of .906.
Five times in Esposito's career with the Black Hawks, he led the NHL in saves in a season. He had 1854 in 1974-75, 2119 in 1976-77, 1893 in 1978-79, 1904 in 1979-80, and 1993 in 1980-81. Esposito also led the NHL with 38 wins during his rookie season of 1969-70, and 35 wins the following season in 1970-71. Other statistical categories Esposito was the NHL single-season leader in was save percentage (.932 in 1969-70, and .934 in 1971-72), goals against average (1.77 in 1981-82), and shutouts (15 in 1969-70, nine in 1971-72, and six in 1979-80).
In 1970, Esposito became the second goaltender in NHL history to win the Calder Trophy and the Vezina Trophy in the same season. The first was Boston Bruins goaltender Frank Brimsek in 1939. There have been two goaltenders to accomplish the feat since Esposito. Tom Barrasso of the Pittsburgh Penguins in 1984, and Ed Belfour of Carman, Manitoba while with the Blackhawks in 1991. Esposito would also win the Vezina Trophy in 1972 and 1974 with Chicago, and was selected to six NHL All-Star Games while with Chicago (five straight years from 1970-74, and again in 1980). In 1970, 1972, and 1980, Esposito was selected to the NHL First All-Star Team.
In 1972, Esposito was part of the Canadian team that won the Summit Series. In 1988, Esposito was inducted into the Hockey Hall of Fame.