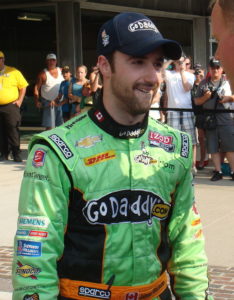 James Hinchcliffe of Oakville, Ontario is the lone Canadian participating in the 2019 Indianapolis 500 which takes place Sunday from the Indianapolis Motor Speedway in Indianapolis, Indiana. Hinchcliffe struggled in qualifying however and is only starting in the middle of the last row (32nd of 33 drivers).
In qualifying, Hinchcliffe, who represents Aarow Schmidt Peterson Motorsports, was the second fastest driver in the Sunday Shootout. The shootout is an opportunity for six drivers to compete for the final three spots in the Indianapolis 500. Last Saturday's qualifying did not go according to plan for Hinchcliffe, as he failed to be in the top 30 fastest drivers. In the Sunday Shootout,  Hinchcliffe was second behind Sage Karam of the United States with a four-lap average speed of 227.543 miles per hour. Karam's speed was 227.74 miles per hour. Hinchcliffe reached the top three by 0.19 miles per hour over a four lap average. Fernando Alonso of Spain finished in fourth place in the shootout with a time of 227.353 miles per hour.
Practice on Monday however was solid for Hinchcliffe. He had the third fastest practice time of 227.994. He was only behind pole sitter Simon Pagenaud of France (228.441 miles per hour) and Josef Newgarden of the United States (228.273 miles per hour).
This is Hinchcliffe's ninth Indianapolis 500. His best result was a sixth place finish in 2012. Last season, Hinchcliffe failed to qualify. He then won later in 2018 in Iowa.
Canada's lone Indianapolis 500 champion came in 1995. That is when Jacques Villeneuve of Saint-Jean-sur-Richelieu, Quebec was victorious. Villeneuve went on to win the Formula One Championship two years later.