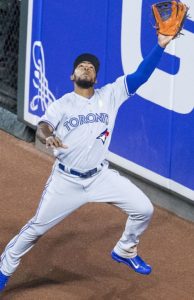 The Toronto Blue Jays should like what they see in September call up Teoscar Hernandez of Cotui, Dominican Republic. The outfielder was a September call-up as Major League Baseball teams ridiculously are allowed to expand their roster from 25 to 40 players for the final month of the season.
Hernandez has made the most of his opportunity as the Blue Jays review options in attempts to improve their outfield in 2018. In 39 at bats for the Blue Jays this month, Hernandez is batting .308 with two home runs and seven runs batted in.
Blue Jays management deserve high praise in acquiring Hernandez from the Houston Astros on July 31 with outfielder Norichika Aoki for starting pitcher Francisco Liriano. Even though Aoki is now with the New York Mets, the last place Blue Jays won the trade in the short term.
The Astros, who are leading the American League West by a landslide, have to be disappointed with Liriano's performances from the bullpen. In 16 games, Liriano has a record of zero wins and two losses with an earned run average of 5.40. He has given up seven earned runs in 11 2/3 innings and has had eight walks.
One person that is likely not to be part of the mix next year is Jose Bautista. The veteran right fielder has been part of the Blue Jays organization since 2008, but even though he is a six-time all-star and led Major League Baseball in home runs in back-to-back seasons (54 in 2010 and 43 in 2011), Bautista is only batting .204 in 2017, and it will be surprising if he will return to his everyday role in 2018.