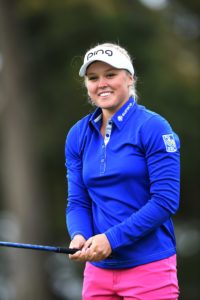 Brooke Henderson of Smiths Falls, Ontario has won her eighth LPGA title, tying her with Sandra Post of Oakville, Ontario for the most golf tournaments ever won by a Canadian on the LPGA Tour. On Saturday, Henderson won the 2019 Lotte Championship when she beat Eun-hee Ji of South Korea by four strokes.
Henderson posted a four round score of -16. She had a first round score of 65 with a seven under par, a second round score of 68 with a four under par, a third round score of 69 with a three under par and a fourth round score of 70 with a two under par.
Henderson was two strokes back of Nelly Korda of the United States after round one, was four strokes back of Ji and two strokes back of Korda after round two and was tied with Korda at -14 after the third round. Throughout the tournament, Henderson had 19 birdies, five bogeys and one eagle. Henderson's eagle came in round one as it only took her two shots to get the ball in the hole on the par four 15th.
This is the second straight year Henderson has won the Lotte Championship. In 2018, Henderson had a four round score of -12 to beat Spain's Azahara Munoz by four strokes. Henderson's six other wins on the LPGA Tour came at the 2015 and 2016 Cambia Portland Classic, the 2016 KPMG Women's PGA Championship in Seattle, the 2017 Meijer LPGA Classic in Belmont, Michigan, the 2017 New Zealand Women's Open and the 2018 Canadian Women's Open in Regina, Saskatchewan. Post's eight wins came at the 1968 LPGA Championship, the 1978 and 1979 Dinah Shore Classic (when the event was not a major) in Rancho Mirage, California, the 1978 Lady Stroh's Open in Dearborn, Michigan, the 1979 Lady Michelob Classic in Atlanta, the 1979 ERA Real Estate Classic in Overland Park, Kansas, the 1980 West Virginia LPGA Classic and the 1981 McDonald's Kids Classic in Malvern, Pennsylvania.