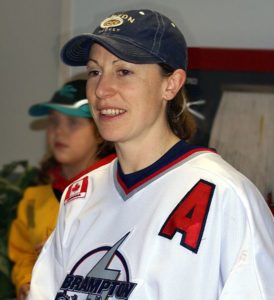 Canadian Olympic gold medalist Jayna Hefford of Trenton, Ontario was named the interim commissioner of the Canadian Women's Hockey League on Thursday.  Hefford won four consecutive gold medals for Canada in women's hockey at the Olympic Winter Games. They were at the 2002 Olympic Winter Games in Salt Lake City, the 2006 Olympic Winter Games in Turin, the 2010 Olympic Winter Games in Vancouver and the 2014 Olympic Winter Games in Sochi.
The CWHL currently has six teams based in Canada, the United States and China. They are the Calgary Inferno, Boston Blades, Kunlun Red Star WIH, the Montreal Canadiennes, Markham Thunder and Toronto Furies. They are entering the 12th season. The Thunder are the reigning Clarkson Cup champions as they beat the Red Star 2-1 in overtime in 2018.
One major issue surrounding women's hockey at the moment is that there are two high performance women's hockey leagues in North America. The National Women's Hockey League currently has five teams–the Boston Pride, Buffalo Beauts, Connecticut Whale, Metropolitan Riveters and Minnesota Whitecaps.
Over the last few years, there have been unsuccessful attempts to bring the two different leagues together and form one league. It will be interesting to see how much of a difference Hefford will be able to make during her time as interim commissioner of the CWHL. Hefford takes over from Brenda Andress of Toronto, Ontario, who had been the CWHL Commissioner since 2007. Andress resigned on Wednesday.