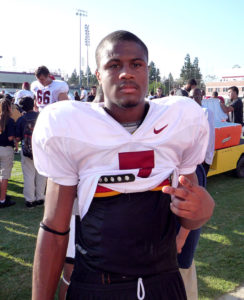 The Edmonton Eskimos are a very surprising 5-0 this season and during their convincing 37-26 win over the British Columbia Lions on Friday, one particular play set an Eskimos record.
With the Eskimos leading the Lions 10-3 in the second quarter and on their own two yard line, Eskimos quarterback Mike Reilly threw a long bomb to Vidal Hazelton. The 29 year old from New York City caught the football and ran down the sidelines into the end zone in a 108 yard pass and run, the longest touchdown reception in Eskimos franchise history.
According to cflpaedia, there have been three CFL passes for 109 yards. They were thrown by quarterbacks Sam Etcheverry of the Montreal Alouettes on September 22, 1956, Jerry Keeling of the Calgary Stampeders on September 27, 1966 and by Damon Allen of the British Columbia Lions on August 21, 2002.
All the talk from week six so far however has come from Winnipeg. On Thursday night, the Blue Bombers had a remarkable comeback against the Montreal Alouettes. Trailing 40-28 to the Alouettes with less than two minutes left, the Blue Bombers marched down the field before Winnipeg quarterback Matt Nichols threw a four yard touchdown pass to Ryan Lankford. Blue Bombers defensive back Brandon Alexander then recovered the onside kick before the Blue Bombers marched down the field again and won the game 41-40 on a one yard run by Andrew Harris of Winnipeg, Manitoba with no time left on the clock.