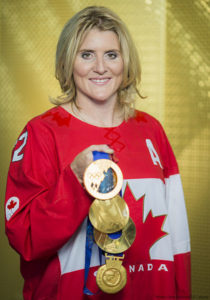 The Canadian government is trying to get the message across of the importance that all Canadians stay home and only leave the house for very serious circumstances such as a quick trip to the grocery store, pharmacy or doctor. On Monday, many high profile Canadians were participated in a critical video to raise Coronavirus awareness.
The participants included four-time Canadian Olympic gold medalist Hayley Wickenheiser of Shaunavon, Saskatchewan, Canadian Prime Minister Justin Trudeau of Ottawa, Ontario, Canadian actors Ryan Reynolds and Seth Rogen of Vancouver, British Columbia and Canadian musician Steven Page of Scarborough, Ontario. Wickenheiser won a gold medal for Canada in women's hockey at the 2002 Olympic Winter Games in Salt Lake City, the 2006 Olympic Winter Games in Turin, the 2010 Olympic Winter Games in Vancouver and the 2014 Olympic Winter Games in Sochi.
Wickenheiser is not only the greatest women's hockey player the world has ever seen, she is also an integral part of the Canadian medical industry. She is in her final year of medical school at the University of Calgary. In the video, Wickenheiser says the following message.
"Hi everyone. You may know me from hockey, the Olympics…But you may not know I am a doctor in training in the final year of med school. Now you definitely don't want to see me in the hospital. So practice social distancing and stay home."
There are currently 1646 cases of Coronavirus in Canada. There are also 445 deaths.