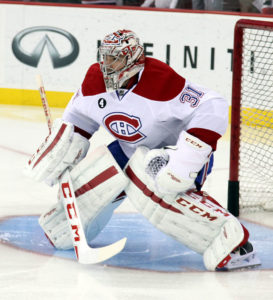 Canadian Olympic gold medalist Carey Price of Vancouver, British Columbia has made a donation to the Breakfast Club of Canada Emergency Fund. The donation is $50,000 according to Rogers Sportsnet and will assist children in need during this terrible time of the Coronavirus.
Price and his wife Angela are involved in many Canadian organizations. They include the Stick with School program, the Big Brothers Big Sisters of Canada, Canadian Tire Jumpstart, KidSport, the Williams Lake Minor Hockey Association in British Columbia, the Boys and Girls Club in Williams Lake and Canadian First Nations communities. It should be noted that Price is of First Nations descent as his mother Lynda was a former chief of the Ulkatcho First Nation and was the first female chief elected to the Union of British Columbia Indian Chiefs' Executive Council.
Price, who won a gold medal for Canada in men's hockey at the 2014 Olympic Winter Games in Sochi, is currently the goaltender of the Montreal Canadiens in the National Hockey League. So far in 2019-20 he has been a workhorse. He leads the NHL with 58 games played and 3440 minutes played. Price has a record of 27 wins, 25 regulation losses, six losses in extra time and four shutouts. He has a goals against average of 2.79 and a save percentage of .909.