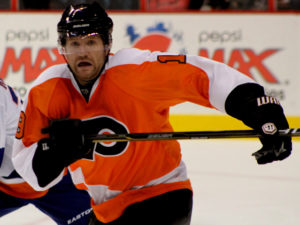 Former National Hockey League all-star Scott Hartnell of Regina, Saskatchewan retired from the Nashville Predators on Monday at the age of 36. Hartnell played 62 games last season for the Predators and had 13 goals and 11 assists for 24 points.
Hartnell played 17 seasons in the NHL from 2000-2018 with the Nashville Predators, Philadelphia Flyers and Columbus Blue Jackets. He had 327 goals and 380 assists for 707 points and was a +66. Known for his aggressive style of play, Hartnell frequently was a member in the penalty box. He had 1809 penalty minutes in 1249 regular season games.
In 2012, Hartnell had his finest NHL season. He had career highs in goals (37), points (67), power play points (23), shots on goal (232), faceoffs won (20) and hits (188). Hartnell also played for Team Alfredsson at the 2012 National Hockey League All-Star Game in Ottawa, Ontario.
Hartnell also holds the Predators franchise record for the fastest two goals in team history. He scored two goals in 23 seconds in a 4-1 Predators win over the Phoenix Coyotes on February 19, 2007. Hartnell put the Predators up 3-0 on a second period goal from Kimmo Timonen and Tomas Vokoun at 5:34 and then scored 23 seconds later at 5:57 of the second period from David Legwand to put the Predators up 4-0.
Originally a member of the Prince Albert Raiders of the Western Hockey League, Hartnell was the Predators' first pick, sixth overall, of the 2000 NHL Entry Draft. He also played for the Lloydminster Blazers of the Alberta Junior Hockey League.