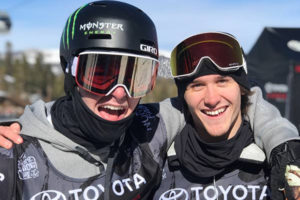 Teal Harle of Campbell River, British Columbia and Evan McEachran of Oakville, Ontario won World Cup men's slopestyle skiing medals in Mammoth Mountain, California on Sunday. Harle won the gold medal and McEachran won the bronze medal.
Harle posted a score of 94.2 points. Andri Ragettli of Switzerland won the silver medal with 92.6 points. McEachran won the bronze medal with 91.4 points.
Harle reached the podium by 4.6 points. McEachran reached the podium by 1.8 points. Felix Stridsberg-Usterud of Norway was in fourth place with a score of 89.6 points.
McEachran and Harle are both in the top ten in the World Cup standings in men's slopestyle skiing. McEachran is in fifth place with 156 points and Harle is in seventh place with 136 points. The World Cup leader in men's slopestyle skiing is Ragettli with 260 points.
This was McEachran's second career World Cup medal of his career and second this season. He previously won a silver medal in Stubai, Austria on November 26, 2017.
Harle has now won two World Cup medals, and both of them gold. His other career men's World Cup slopestyle skiing victory came in Silvaplana, Switzerland on March 3, 2017.
This was the last World Cup men's slopestyle skiing event before the 2018 Olympic Winter Games in Pyeongchang. The men's slopestyle skiing competition at the 2018 Winter X Games is January 28 from Aspen, Colorado.