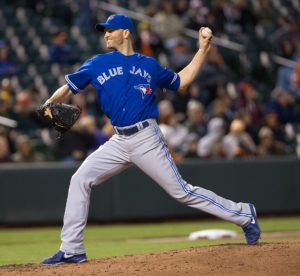 J.A. Happ of Peru, Illinois is representing the Toronto Blue Jays in the 2018 Major League Baseball All-Star Game. This will be Happ's first MLB All-Star game appearance in his career.
Happ leads the Blue Jays with 10 wins so far in 2018. He has five more wins than reliever Ryan Tepera, who is second on the list with five wins.
Even though Happ has shown some inconsistency as of late (seen his earned run average increase from 3.48 to 4.44 in less than a month), he still leads the Blue Jays with 115 strikeouts and 105.3333 innings pitched. Happ also has a very respectable WHIP (walks and hits per innings pitched) of 1.18.
Starting pitching was supposed to be the Blue Jays strength, but so far this season, one could argue it has been their weakness. Marcus Stroman only has one win all season while battling a shoulder ailment. Aaron Sanchez and Jaime Garcia are on the 10 day disabled list, and Marco Estrada is no where near the Blue Jays starter he was when Toronto reached back-to-back playoff berths in 2015 and 2016. Garcia's days in the Blue Jays starting rotation are definitely on life support as he currently has an earned run average of 6.16.
The Blue Jays will not be playoff bound in 2018. They currently are at 41 wins and 48 losses, and 15 games back of the Seattle Mariners in the American League wildcard.