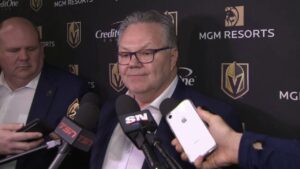 Vegas Golden Knights General Manager Kelly McCrimmon of Plenty, Saskatchewan has tested positive for coronavirus according to Emily Kaplan of ESPN. The positive test occurred while the Golden Knights were in Montreal, Quebec for games three and four of the 2021 Stanley Cup semifinals.
There have been 374,011 cases of coronavirus in the Canadian province of Quebec, and 11,191 deaths. There are also 1,299 active cases of coronavirus in Quebec, and 361,521 people have recovered.
McCrimmon is the second person involved in the Stanley Cup semifinals to receive a positive diagnosis for coronavirus. Montreal Canadiens head coach Dominique Ducharme also tested positive. Ducharme reportedly tested positive for coronavirus after receiving his second shot for the vaccine. However, he was not fully vaccinated at the time he tested positive for coronavirus because his positive diagnosis came within the two-week period before the second shot had come into effect. Kaplan was unsure whether or not McCrimmon had been vaccinated.
Kelly McCrimmon's brother Brad of Dodsland, Saskatchewan died in the Lokomotiv Yaroslavl plane crash in 2011. Brad McCrimmon never had the opportunity to coach in the Kontinental Hockey League, as the crash occurred before he was behind the bench. He was the only Canadian native who was killed on the plane.