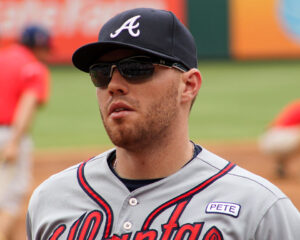 Canadian Freddie Freeman of the Atlanta Braves has hit for the cycle for the second time in his Major League Baseball career. Freeman, who represents Canada internationally because his parents were both from Ontario, had a single, double, triple and home run for the Braves on Wednesday in an 11-9 Atlanta win over the Miami Marlins.
Freeman had two runs batted in during the game, scored four runs, and had one walk. He is now batting .301 on the season with a slugging percentage of .520, and an on base percentage of .399.
Freeman becomes the third member of the Atlanta Braves to record an extra base hit. He joins Albert Hall of Birmingham, Alabama and Mark Kotsay of Whittier, California. Hall accomplished the feat on September 23, 1987 in a 5-4 Atlanta win over the Houston Astros, while Kotsay hit for the cycle on August 14, 2008 in a 11-7 Braves loss to the Chicago Cubs.
Freeman's other cycle in his MLB career came on June 15, 2016 in a 9-8 Atlanta win over the Cincinnati Reds. Freeman is also the second Canadian all-time to hit for the cycle twice. The first player was Tip O'Neill of Springfield, Ontario, who hit for the cycle twice in one season for the St. Louis Brown Stockings in 1887.
The Braves currently lead the National League East with 65 wins and 56 losses. They have a three and a half game lead over the Philadelphia Phillies.