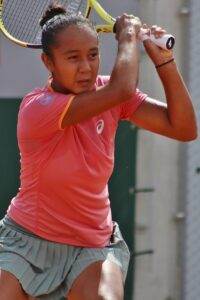 The third round will be underway on Friday at the 2021 United States Open in Flushing Meadows, New York. The Canadian men in the final 32 are seventh seed Denis Shapovalov of Toronto, Ontario, and the 12th seed Felix Auger-Aliassime of Montreal, Quebec. The Canadian women in the final 32 are the sixth seed Bianca Andreescu of Mississauga, Ontario, and Leylah Annie Fernandez of Montreal, Quebec.
In the second round on Wednesday, Auger-Aliassime and Fernandez won their second round matches. Auger-Aliassime defeated Bernabe Zapata Miralles of Spain 7-6, 6-3, 6-2, while Fernandez defeated Kaia Kanepi of Estonia 7-5, 7-5. Auger-Aliassime had 12 aces, while Zapata Miralles had none. Auger-Aliassime also broke Zapata Miralles five times. Fernandez meanwhile broke Kanepi in the latter stages in each set, while Kanepi only won 39% of the total points on her second serve.
On Thursday, Andreescu defeated American Lauren Davis 6-4, 6-4, while Shapovalov beat Roberto Carballes Baena of Spain 7-6, 6-3, 6-0. Andreescu's serve was working as she had six aces, compared to Davis's two. Shapovalov meanwhile had nine aces, compared to Carballes Baena's three, and had five breaks of serve, compared to Carballes Baena's one service break.
In the third round, Fernandez will face four-time grand slam champion Naomi Osaka of Japan, the third seed. Osaka won the 2018 and 2020 United States Open, and the 2019 and 2021 Australian Open. Andreescu will face Greetje Minnen of Belgium.
On the men's side, Auger-Aliassime will face the 18th seed, Roberto Bautista Agut of Spain. Bautista Agut reached the semifinals of Wimbledon in 2019. Shapovalov meanwhile will play unseeded South African Lloyd Harris, who had a strong summer after beating Rafael Nadal of Spain in Washington.