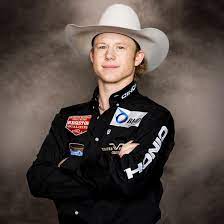 Four Canadians came out victorious in the Sunday Showdown of the 2023 Calgary Stampede. Those receiving $50,000 cheques were tie-down roper Beau Cooper of Stettler, Alberta, saddle bronc rider Dawson Hay of Wildwood, Alberta, steer wrestler Scott Guenthner of Provost, Alberta, and bull rider Jared Parsonage of Maple Creek, Saskatchewan.
In the tie-down roping, Canadians finished first and second. Cooper posted a winning time of seven seconds. That was 1.4 seconds faster than Kyle Lucas of Carstairs, Alberta, who had a time of 8.4 seconds. The only other tie-down roper who posted a time in the Sunday Showdown was Blane Cox of Stephenville, Texas, who had a time of 9.2 seconds.
In the saddle bronc, Hay posted the best score of 92 points. Just like the tie-down roping, Canadians had a 1-2 finish, as Ben Andersen of Rocky Mountain, Alberta had a score of 90 points.
In the steer wrestling, Guenthner had the fastest time of 3.2 seconds, while in the bull riding, Parsonage was the only bull rider to post a score in the finals as he had 89 points.
Meanwhile, in the 2023 Rangeland Derby Dash for Cash, the champion was Layne MacGillivray of Halkirk, Alberta, who had a winning time of 1:13.24. Kurt Bensmiller of Dewberry, Alberta was in second place with a time of 1:13.58. Ross Knight of St. Walburg, Saskatchewan was in third place with a time of 1:14.55.