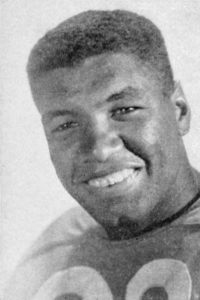 According to the Canadian Press, former Canadian Football League wide receiver and defensive back Marv Luster of Shreveport, Louisiana passed away at the age of 82 on Monday. Luster played nine seasons with the Toronto Argonauts from 1964 to 1972 and six seasons with the Montreal Alouettes from 1961 to 1964 and again from 1973 to 1974. The cause of death is unknown at this time.
Luster played 182 CFL regular season games. Offensively, he had 113 catches for 1963 yards and 11 touchdowns. Defensively, Luster had 28 interceptions for 327 yards, along with 13 fumble recoveries for 40 yards and two touchdowns.
Luster also played special teams. He had 20 kickoff returns for 350 yards and nine punt returns for 39 yards.
Luster was a six-time CFL All-Star. He received league-wide recognition at defensive back in 1966, 1968, 1969, 1970, 1971, and 1972. In 1990, Luster was inducted into the Canadian Football Hall of Fame in Hamilton, Ontario, and was named the CFL's 35th best player of all-time in 2006.
Luster originally played college football at the University of California-Los Angeles (UCLA). He was selected as the most valuable player of the 1961 All-American Graduation Bowl.
Luster also had the distinction of being drafted in the American Football League and the National Football League. He was selected by the Buffalo Bills in the first ever AFL Draft in 1960, and was also selected in the ninth round, 97th overall, by the Los Angeles Rams in the 1960 NFL Draft. Like many professional football players at the time, Luster decided to play in the CFL rather than the NFL.