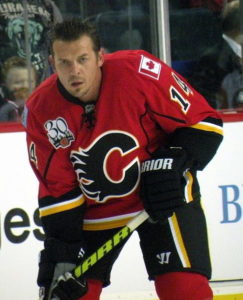 Canadian Olympic gold medalists Theoren Fleury of Oxbow, Saskatchewan and Cindy Klassen of Winnipeg, Manitoba were inducted into the Alberta Sports Hall of Fame on Friday in Red Deer, Alberta. Even though Fleury and Klassen were from outside Alberta, they both made their mark in Calgary. Fleury, while playing hockey for the Calgary Flames at the Saddledome and Klassen while speed skating at the Olympic Oval in Calgary.
Fleury won his gold medal while playing for Team Canada in men's hockey at the 2002 Olympic Winter Games in Salt Lake City.He also won a Stanley Cup with the Flames in 1989, the World Junior Hockey Championship with Canada in 1988 and the Canada Cup with Canada in 1991.
Klassen won her Olympic gold medal in the women's 1500m at the 2006 Olympic Winter Games in Turin.It was one of five Olympic medals she won that year to go along with a bronze she won at the 2002 Olympic Winter Games in Salt Lake City.
It was also a huge night for Canadian Sport Scene sales director Brian Lubbers, who was inducted into the Alberta Sports Hall of Fame as a member of the 1989 and 1990 Calgary Colts Football Team. The Colts, who won the Canadian Junior Football League championship in 1989 and 1990 are the only team in the history of the CJFL to win back-to-back national titles.
Others inducted include basketball player Leighann Doan Reimer, rodeo broadcaster Dianne Finstad, former Flames radio broadcaster Doug Barkley, former Team Canada men's hockey coach Dave King, ringette athlete Keely Brown, volleyball builder Dr. Lorne Sawula, basketball builders Rod Davies and Phil Allen, and mountaineer Stuart Erskine.