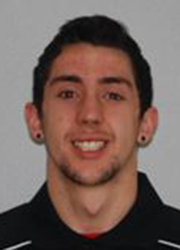 Team Canada came away with three wins this past weekend at the 2018 FIVB Volleyball Men's Nations League in San Juan, Argentina. The Canadian squad beat Italy, Iran and Argentina to improve their record to four wins and two losses.
On Friday, Canada beat Italy 22-25, 27-25, 25-23, 25-16. Graham Vigrass of Calgary, Alberta led the Canadian attack with 14 kills, 17 points and was one of two players to record two aces. The other Canadian with two aces was Ryan Sclater of Port Coquitlam, British Columbia. Meanwhile, Stephen Timothy Maar of Aurora, Ontario led Canada with four blocks.
On Saturday, Canada beat Argentina 25-22, 25-18, 24-26, 25-23. Maar led Canada with 18 points and 16 kills. Sclater led Canada with four blocks, while Tyler Sanders of Winnipeg, Manitoba and Lucas Van Berkel of Edmonton, Alberta notched one ace each.
On Sunday, Canada beat Iran 25-23, 25-22, 21-25, 25-21. Sclater led Canada with 18 points, 16 kills and was one of two Canadian players with two blocks. The other was Maar. Jason DeRocco of Winnipeg, Manitoba and Nicholas Hoag of Sherbrooke, Quebec each collected an ace for Canada.
The fact that Canada won each of their three matches in four sets or less is significant. That is because they were able to collect the maximum total of nine points. The Canadians also moved to sixth spot overall in the standings with 12 points.
The top five teams plus France advance to the final round in early July. After two weeks of action, Canada is on pace to qualify as France is tied for fourth place with Russia. Poland, Brazil and the United States all have records of 5-1.
Canada will have home court advantage this weekend in Ottawa. They play Australia on Friday, Germany on Saturday and the United States on Sunday.