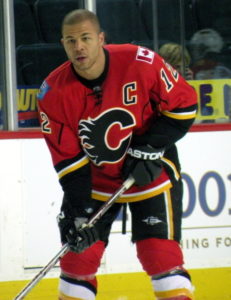 The Calgary Flames of the National Hockey League announced on Thursday that they will retire the number 12 of Jarome Iginla of Edmonton, Alberta. Iginla, a Canadian Olympic gold medalist, will be the third Flames player all-time to have his number retired. The other two were Alberta-born as well. Lanny McDonald of Hanna, Alberta had his number nine retired and Mike Vernon of Calgary, Alberta had his number 30 retired.
Iginla is the Flames all-time leader in games played (1219), goals (525), assists (609), points (1095), power play goals (161), and shots on goal (3992). The ceremony will take place on March 2 at the Scotiabank Saddledome in Calgary, Alberta when the Flames host the Minnesota Wild.
Iginla played with the Flames from 1996-2013. During his 16 seasons with the Flames, he won the Rocket Richard Trophy twice (52 goals in 2001-02 and 41 goals in 2003-04), the Art Ross Trophy in 2002 (96 points), Lester B. Pearson Trophy in 2002, led the NHL with 10 game winning goals in 2003-04, represented the Flames at the 2002, 2003, 2004, 2008, 2009 and 2012 NHL All-Star Game, and was a first-team NHL All-Star in 2002, 2008 and 2009.
Iginla won two Olympic gold medals for Canada and both came while he was representing the Calgary Flames. The first came at the 2002 Olympic Winter Games in Salt Lake City and the second came at the 2010 Olympic Winter Games in Vancouver. When Iginla won his second gold medal, he set up Sidney Crosby for the overtime winner as Canada defeated the United States 3-2.