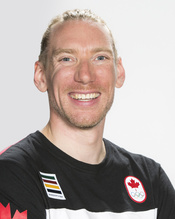 The Calgary Flames honoured Canadian Olympic gold medalists Justin Kripps of Summerland, British Columbia and Ted-Jan Bloemen of Calgary, Alberta in a pre-game ceremony at the Scotiabank Saddledome in Calgary on Friday prior to the Flames 3-1 loss to the New York Rangers in National Hockey League action. Kripps and Bloemen were among 14 Canadian Olympians recognized for their participation at the 2018 Olympic Winter Games in Pyeongchang. 
Kripps won an Olympic gold medal in the men's two-man bobsled with Alexander Kopacz of London, Ontario. Bloemen won a gold medal in the men's 10000 metre speed skating event and a silver medal in the men's 5000m event.
There were five other Canadian Olympic medalists who were honoured by the Flames. They were Olympic silver medalists Rebecca Johnston of Sudbury, Ontario and Brianne Jenner of Oakville, Ontario (women's hockey), Olympic bronze medalist Kaillie Humphries of Calgary, Alberta (women's bobsled), Olympic silver medalist Justin Snith of Calgary, Alberta (mixed relay luge) and luger Alex Gough of Calgary, Alberta who won a silver medal in mixed relay luge with Snith and a bronze medal in women's luge. The luge medals Gough and Snith contributed to were the very first Olympic luge medals for Canada in history. Johnston and Jenner are both from Ontario, but are currently members of the Calgary Inferno of the Canadian Women's Hockey League.