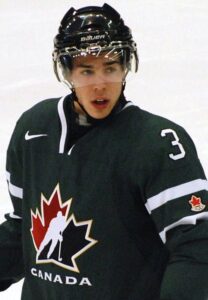 Calgary Flames defenseman Travis Hamonic of Saint Malo, Manitoba will not participate in the National Hockey League restart, which has now been moved from July 30 to August 1. Hamonic explains that he is concerned about his daughter, who acquired a serious respiratory virus a year ago according to the Canadian Press on Friday. The bottom line is, we are still in a pandemic as there is not yet a vaccine for coronavirus. Even though Edmonton was officially chosen as one of the two hub cities by the National Hockey League on Friday, there were still 77 cases of coronavirus in Alberta.
With the loss of Hamonic, it is expected that Oliver Kylington of Stockholm, Sweden will get regular playing time. Kylington has two goals and five assists for seven points during the 2019-20 NHL regular season.
In 50 games this season, Hamonic has three goals and nine assists for 12 points. He was a -3 with 27 penalty minutes, 83 shots on goal, 110 blocked shots, 39 hits, 21 takeaways, and 36 giveaways. Hamonic was in his third season with the Flames after seven seasons with the New York Islanders.
At the time of the coronavirus pause, the Flames were in third place in the Pacific Division with a record of 36 wins, 27 regulation losses and seven losses in extra time for 79 points. In the qualifying round, the Flames are seeded eighth, and will play another Canadian team, the Winnipeg Jets, starting August 1.