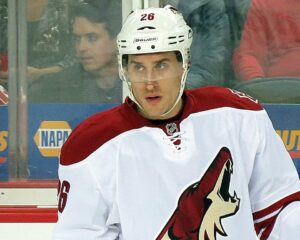 According to Rogers Sportsnet on Wednesday, Calgary Flames defenseman Michael Stone of Winnipeg, Manitoba has retired at the age of 33. He played 12 National Hockey League seasons with the Arizona Coyotes and Calgary Flames from 2011 to 2023. Stone will reportedly stay in the Flames organization.
In 552 NHL regular season games, Stone had 41 goals and 104 assists for 145 points. He was a -47 with 309 penalty minutes, 37 power-play points, one shorthanded point, four game-winning goals, two faceoff wins, 1002 blocked shots, 1011 hits, 89 takeaways, and 159 giveaways. Stone's lone shorthanded point was a shorthanded assist and came in a 3-2 Phoenix Coyotes loss to Stone's future team, the Calgary Flames, on January 22, 2014. Stone helped set up Antoine Vermette of Saint-Agapit, Quebec.
In the Stanley Cup Playoffs, Stone had three goals and three assists for six points. He was a +3 with four penalty minutes, 29 shots on goal, 16 blocked shots, 23 hits and three giveaways.
With the retirement of Stone, the Flames signed defenseman Jordan Oesterle to a one-year contract worth $925,000. Last season in Detroit, he had two goals and nine assists for 11 points. The 31-year-old has a Canadian connection as he played his first three National Hockey League seasons with the Edmonton Oilers. The Flames will be looking to bounce back after missing the playoffs last season.