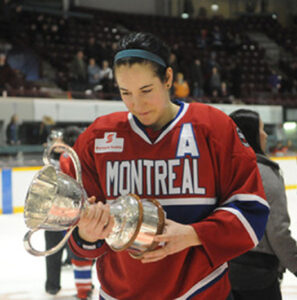 There are five Canadians inducted into the Hockey Hall of Fame for 2023. They are Canadian Olympic gold medalist Caroline Ouellette of Montreal, Quebec, forward Pierre Turgeon of Rouyn-Noranda, Quebec, goaltender Mike Vernon of Calgary, Alberta, coach Ken Hitchcock of Edmonton, Alberta, and general manager Pierre Lacroix of Montreal according to dailyfaceoff.com on Wednesday.
Ouellette is one of three Canadian women's hockey players to win a gold medal at four consecutive Olympic Winter Games. She is joined by Hayley Wickenheiser of Shaunavon, Saskatchewan and Jayna Hefford of Trenton, Ontario. Ouellette won gold at the 2002 Olympic Winter Games in Salt Lake City, the 2006 Olympic Winter Games in Turin, the 2010 Olympic Winter Games in Vancouver, and the 2014 Olympic Winter Games in Sochi. A winner of six World Women's Hockey Championships and 12 World Women's Hockey Championship medals (six silver medals too), Ouellette had 87 goals and 155 assists for 242 points for Team Canada.
Turgeon, a centre, had 515 goals and 812 assists for 1327 points in 1294 games from 1987 to 2007 with the Buffalo Sabres, St. Louis Blues, New York Islanders, Montreal Canadiens, Dallas Stars and Colorado Avalanche. He won the Lady Byng Trophy with the Islanders in 1992-93, and played in four NHL All-Star Games. Turgeon represented the Sabres in 1990, the Islanders in 1993 and 1994, and the Canadiens in 1996.
Vernon a record of 385 wins, 274 losses, and 92 ties or overtime losses where his team got a point in 782 games with the Calgary Flames, Detroit Red Wings, San Jose Sharks and Florida Panthers from 1982 to 2002. He had a goals against average of 3.00 and a save percentage of .889 with 27 shutouts. Vernon won the a Stanley Cup with the Flames in 1989 and the Red Wings in 1997, and the Conn Smythe Trophy with the Red Wings in 1997.
Hitchcock coached 1598 games from 1995 to 2019 with the Dallas Stars, Philadelphia Flyers, Columbus Blue Jackets, St. Louis Blues and Edmonton Oilers. He had a record of 849 wins and 534 losses. Hitchock won a Stanley Cup with the Stars in 1999 and the Jack Adams Award with the Blues in 2012.
Lacroix held many roles with the Quebec Nordiques and Colorado Avalanche from 1994 to 2013. They included president and general manager. He won a Stanley Cup with the Avalanche in 1996 and 2001.