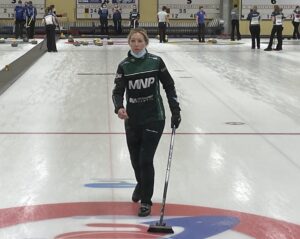 We now know the nine men's teams and nine women's teams that will be competing at the 2021 Canadian Olympic Curling Trials in Saskatoon, Saskatchewan from November 20-28. This past weekend, the final four Canadian teams qualified (two men's teams and two women's teams) for the tournament from the Canadian Olympic Pre-Curling Trials event from Liverpool, Nova Scotia.
Three of the four teams that qualified on the weekend came from Ontario. The women's teams were skipped by Krista McCarville of Thunder Bay, Ontario, and Jacqueline Harrison of Watertown, Ontario. McCarville and Harrison tied for first place in Pool A with a record of five wins and one loss. McCarville then beat Mackenzie Zacharias of Altona, Manitoba 8-7 in the A semifinal, before beating Harrison 9-6 in the A Final. Harrison qualified by beating Corryn Brown of Kamloops, British Columbia 9-2 in the B Final.
McCarville delivered some remarkable comebacks on the weekend. She trailed 5-2 to Harrison in pool play before winning 8-7, trailed Zacharias 5-1 in the A semifinals before winning 8-7, and then beat Harrison in the A Final 9-6 after losing 5-1 after two ends.
The men's teams that reached the Canadian Olympic Curling Trials were Jason Gunnlaugson of Winnipeg, Manitoba, and Tanner Horgan of Sudbury, Ontario. Gunnlaugson beat Horgan 9-8 in the men's A Final, and Horgan beat Glenn Howard of Midland, Ontario 7-4 in the B Final.
McCarville and Harrison will be joined in the women's field by Ontario's Rachel Homan, Alberta's Laura Walker, Kelsey Rocque and Casey Scheidegger, and Manitoba's Jennifer Jones, Kerri Einarson and Tracy Fleury. It is interesting that there are three teams each from Manitoba, Ontario, and Alberta. Gunnlaugson and Horgan will be joined in the men's field by Alberta's Kevin Koe and Brendan Bottcher, Newfoundland's Brad Gushue, Ontario's Brad Jacobs and John Epping, Saskatchewan's Matt Dunstone and Manitoba's Mike McEwen.