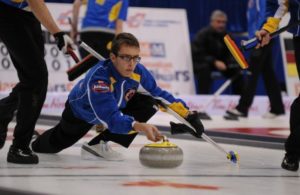 Edmonton's Dana Ferguson and Brendan Bottcher have a perfect record of three wins and zero losses after day one of the 2018 Canadian Olympic Mixed Doubles Curling Trials in Portage La Prairie, Manitoba. They are joined by the engaged couple of Laura Crocker of Edmonton, Alberta and Geoff Walker of Beaverlodge, Alberta.
Ferguson and Bottcher defeated Canadian Olympic gold medalists Kaitlyn Lawes of Winnipeg, Manitoba and John Morris of Kelowna, British Columbia 8-4, two-time Scotties Tournament of Hearts finalist Valerie Sweeting of Edmonton, Alberta and Canadian Olympic gold medalist Brad Jacobs of St. John's, Newfoundland 7-6 and the 2015 Canadian Mixed Doubles curling champions of Kalynn Park of Edmonton, Alberta and Charley Thomas of Calgary, Alberta 6-4.
Crocker and Walker beat Sherry Middaugh of Victoria Harbour, Ontario and John Epping of Peterborough, Ontario 7-4, Park and Thomas 9-3 and Saskatchewan mixed doubles specialists Marliese Kasner of Prince Albert and Dustin Kalthoff of Saskatoon 9-3.
There are three other teams undefeated. Jocelyn Peterman of Red Deer, Alberta and Brett Gallant of Charlottetown, Prince Edward Island along with Canadian Olympic gold medalist Jill Officer and Reid Carruthers of Winnipeg, Manitoba are 2-0 in Pool A. Meanwhile Chelsea Carey of Calgary, Alberta and Colin Hodgson of West St. Paul, Manitoba are 2-0 in Pool B. The winner of the tournament will represent Canada at the 2018 Olympic Winter Games in Pyeongchang.