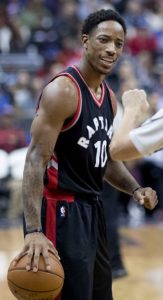 DeMar DeRozan is now in the Toronto Raptors record books. On Monday, DeMar DeRozan began 2018 with a splash as he set the Raptors record for most points in a game with 52. It was a good result for the Raptors as well, as they beat the Milwaukee Bucks 131-127 in overtime.
DeRozan broke the old Raptors record of 51 points that was previously set by Terrence Ross and Vince Carter. Ross had 51 points in a 126-118 Raptors loss to the Los Angeles Clippers on January 25, 2014. Carter had 51 points in a 103-102 win over the Phoenix Suns on February 27, 2000.
In DeRozan's magical game on Sunday, the Raptors' ninth year shooting guard had eight assists and five rebounds. He made 17 of 29 field goals, was five of nine from beyond the arc and was a perfect 13 of 13 in free throw shooting.
DeRozan has been the best Raptors player this season. He has been one of three players to win the NBA's Eastern Conference Player of the Week twice. DeRozan is joined by Victor Oladipo of the Indiana Pacers and LeBron James of the Cleveland Cavaliers. DeRozan was first recognized on November 20 after he averaged 26.8 points per game in leading the Raptors to four wins in four games from November 14 to 19. DeRozan was recognized again on Christmas Day after he averaged 34 points in three games in four nights from December 20 to 23.
The Raptors are currently in second place in the Eastern Conference with a record of 25-10. They are two and a half games back of the conference leading Boston Celtics who are 30-10. However it should be noted that the Raptors have five games in hand.