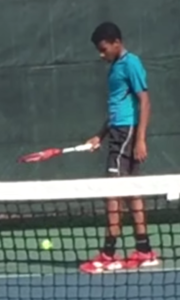 Felix Auger-Aliassime of Montreal, Quebec has won three matches in two days at the 2019 Queen's Club Championships in London, Great Britain. The 500 point event which was hampered by rain Tuesday and Wednesday, finally resumed play on Thursday with Auger-Aliassime having to play two singles matches in one day.
In Auger-Aliassime's first round match on Thursday, he defeated Grigor Dimitrov of Bulgaria 6-4, 6-4. Dimitrov has an excellent career resume on grass as he advanced to the semifinals of Wimbledon in 2014. Then on Thursday, Auger-Aliassime beat Australian Nick Kyrgios 6-7. 7-6, 7-5 in three gruelling sets in the second round.
There were many times throughout the match where Kyrgios did not seem to be returing the tennis ball at full strength. That might have been part of Kyrgios's tactics as he was attempting a lot of finesse shots, however at the end of the day his strategy simply did not work. Earlier on Thursday, Kyrgios was arguing regularly with chair umpire Fergus Murphy of Ireland in his first round win over Roberto Carballes Baena of Spain, and was subsequently fined $17,500 for his outbursts.
Then on Friday, Auger-Aliassime upset Stefanos Tsitsipas of Greece, the first ranked player in the tournament, 7-5, 6-2. For Auger-Aliassime, who was seeded eighth, it was his second win over Tsitsipas in 2019 as he also beat him in the second round of Indian Wells 6-4, 6-2.
Auger-Aliassime will next play Feliciano Lopez of Spain in the semifinals. Lopez beat Milos Raonic of Thornhill, Ontario, the sixth seed, 4-6, 6-4, 7-6 in the other quarterfinal match.