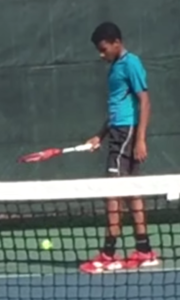 Felix Auger-Aliassime of Montreal, Quebec reached his third ATP men's singles final of 2019 when he was among the final two at the Stuttgart Open in Germany on Sunday. Auger-Aliassime ended up losing 6-4, 7-6 to Matteo Berrettini of Italy.
Auger-Aliassime got fortunate in reaching the final because he did not have to play his semifinal match. That is because Milos Raonic of Thornhill, Ontario pulled out because of a back injury.
The seventh seed in Stuttgart, Auger-Aliassime also reached the final of the 2019 Rio Open on February 24 and the 2019 Lyon Open on May 25. In Rio, Auger-Aliassime lost 6-3, 7-5 to Laslo Djere of Serbia and in Lyon, he lost to Benoit Paire of France 6-4, 6-3. It should be noted that the events in Rio and Lyon were on clay and the event in Germany was on grass.
Auger-Aliassime and Raonic are both seeded this week at the 2019 Fever Tree Championships at the Queen's Club in London, England. Auger-Aliassime is seeded eighth and Raonic is seeded sixth.
Raonic, Auger-Aliassime and Denis Shapovalov of Toronto, Ontario will all have tough first round matches. Raonic is facing the 2018 French Open semifinalist Marco Cecchinato of Italy. Auger-Aliassime is facing the 2014 Wimbledon semifinalist and 2017 Australian Open semifinalist Grigor Dimitrov of Bulgaria and Shapovalov is facing the third seed and 2009 United States Open champion Juan Martin del Potro of Argentina.
Head-to-head Raonic is 3-0 against Cecchinato. He has beaten him twice at an ATP Masters Series 1000 event in Monte Carlo and once at an ATP Masters Series 1000 event in Rome. Shapovalov is 1-1 against Del Potro. The Canadian beat the major champion 6-3, 7-6 in the second round of the 2017 Rogers Cup in Montreal and then Del Potro won in Auckland in 2018. This will be the first time Auger-Aliassime will have faced Dimitrov.