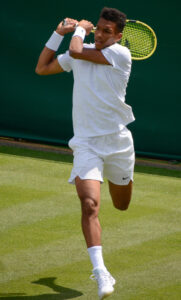 It has been a struggle for Felix Auger-Aliassime of Montreal, Quebec in ATP Tour Masters 1000 Series events on clay in 2021. He lost in the first round, 7-6, 6-1 to Chile's Cristian Garin in the Monte Carlo Masters, and then in the first round, 6-1, 6-4 to Casper Ruud of Norway at the Madrid Open last week.
However, on Tuesday, Auger-Aliassime had his finest performances during the entire tennis season. He defeated the eighth seed, Diego Schwartzman of Argentina, 6-1, 6-3 in the second round of the Italian Open in Rome.
Auger-Aliassime only needed 64 minutes to beat Schwartzman, the 10th-ranked player in the world. Auger-Aliassime had five aces compared to Schwartzman's one. Auger-Aliassime also broke Schwartzman's serve five times, and won 91% of his second serve points.
There is no doubt that the Auger-Aliassime win was considered an upset. Schwartzman has had some outstanding results on clay in the past. He won the 2016 Istanbul Open, the 2018 Rio Open, the 2021 Argentina Open, reached the final of the 2019 Madrid Masters, and the semifinal of the 2019 French Open.
Auger-Aliassime was one of two Canadians to win at the Italian Open on Tuesday. In the first round, Denis Shapovalov of Toronto, the 13th seed, defeated Kamil Majchrzak of Poland, 6-1, 6-3. Shapovalov is to play Stefano Travaglia of Italy in the second round on Wednesday.