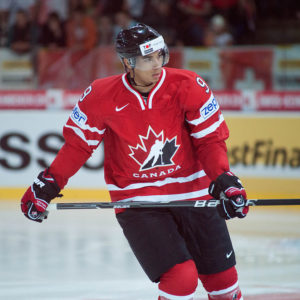 Edmonton Oilers left winger Evander Kane of Vancouver, British Columbia notched his ninth career National Hockey League hat trick on Wednesday. He accomplished the feat in a 4-3 Oilers overtime win over the Seattle Kraken at Rogers Place in Edmonton. Kane scored the last three goals of the game. The first two tied the game at three, and then he scored the overtime winner.
Kane's first goal of the game came with six minutes and 32 seconds left in the third period. He scored from Evan Bouchard of Oakville, Ontario, and Mattias Ekholm to pull the Oilers within a goal at 3-2 Seattle. Kane then tied the game at three with 46 seconds left in the third period. After fanning on the first attempt, Kane scored from Ryan Nugent-Hopkins of Burnaby, British Columbia and Leon Draisaitl. Kane then scored the overtime winner from Zach Hyman of Toronto, Ontario and Bouchard on an all-Canadian goal.
In the game, Kane was one of two Canadians to score for the Oilers. The other was Connor McDavid of Richmond Hill, Ontario. Kane was also one of two Canadian Oilers with a multi-point game as Bouchard had three assists.
In 15 games this season, Kane has seven goals and eight assists for 15 points. He is a -1 with 24 penalty minutes, two power-play points, one shorthanded point, one game-winning goal, 45 shots on goal, four faceoff wins, four blocked shots, 56 hits, six takeaways, and six giveaways. The shorthanded point was a shorthanded goal from Draisaitl in a 4-1 Oilers win over the New York Islanders on Monday. Of Kane's nine career NHL hat tricks, three have been with the San Jose Sharks and six with the Oilers.