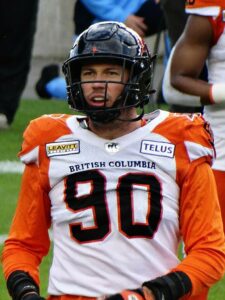 Winnipeg Blue Bombers running back Brady Oliveira of Winnipeg, Manitoba and British Columbia Lions defensive lineman Mathieu Betts of Montreal, Quebec won prominent awards at the Canadian Football League Award ceremony in Niagara Falls, Ontario on Thursday night. Oliveira was named the Most Outstanding Canadian and Betts was named the CFL's most outstanding defensive player.
In 2023, Oliveira had 260 rushes for 1534 rushing yards and nine touchdown rushes. He also had 38 catches for 482 receiving yards and four touchdown catches. Oliveira led the CFL in rushing yards, and was tied for the CFL lead in touchdown runs with nine. He was tied with Ottawa Redblacks quarterback Dustin Crum.
Betts had 42 defensive tackles, two special teams tackles, 18 sacks, four forced fumbles and one blocked punt. It was Betts's 18 sacks that were noteworthy. He not only led the CFL in sacks this season, but set a CFL record for most sacks by a Canadian in a season. The previous records belonged to Brent Johnson of Kingston, Ontario, who had 17 sacks for the British Columbia Lions in 2005, and Jamaal Westerman of Brampton, Ontario, who had 17 sacks for the Winnipeg Blue Bombers in 2015. Oliveira and the Blue Bombers play the Montreal Alouettes in the Grey Cup on Sunday from Hamilton.