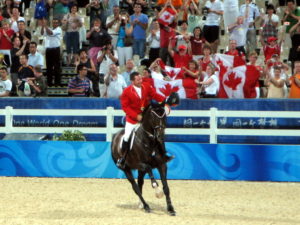 Canadian Olympic gold medalist Eric Lamaze of Montreal, Quebec has decided to withdraw from the 2020 Olympic Games in Tokyo in 2021 according to the Canadian Press on Monday. The reason for his decision not to participate is related to health concerns. Lamaze has dealt with cancer over the last three years.
Lamaze is ranked 23rd in the world. He has won the individual show jumping gold medal at the 2008 Olympic Games in Beijing, the team jumping silver medal at the 2008 Olympic Games in Beijing, and the individual show jumping bronze medal at the 2016 Olympic Games in Rio de Janeiro.
Canada is already not participating in the team competition in equestrian at the Olympic Games in Tokyo. That is because Nicole Walker of Scarborough, Ontario tested positive for the substance cocaine metabolite, according to Donna Spencer of The Canadian Press. Walker admitted she ingested the substance while drinking coca tea at the 2019 Pan American Games in Lima, Peru.
Canada is still able to qualify one rider at the Olympic Games. The next highest-ranked Canadian equestrian rider is Mario Deslauriers of Venise-en-Quebec, Quebec. Deslauriers is currently ranked 44th in the world. Interestingly, Deslauriers is currently 56 years of age, and three years older than Lamaze. Deslauriers has 26 career victories in individual equestrian, and finished in fourth place at the 1984 Olympic Games in Los Angeles. Also that same year, he became the youngest rider ever at 19 years of age, to win the FEI World Cup Final.