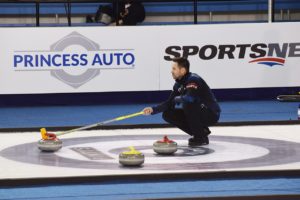 John Epping of Peterborough, Ontario won the 2018 Canadian Beef Masters of Curling tournament from Truro, Nova Scotia on Sunday. In the championship final, Epping's team that included third Matt Camm, second Brent Laing and lead Craig Savill, defeated Kevin Koe's team 7-4.
In pool play during the tournament, Epping was in a three-way tie for first place in Pool B with reigning Olympic silver medalist Niklas Edin of Sweden and Ross Paterson of Scotland. Epping beat Yannick Schwaller of Switzerland 7-5, Canadian Olympic gold medalist Brad Jacobs of Sault. Ste. Marie, Ontario 7-6, and Edin 6-1, and lost to Paterson 8-7 for a record of three wins and one loss. In the quarterfinals, Epping got revenge against Paterson with a 9-5 win. He then trounced Edin 8-3 in the semifinals.
The fact that Epping beat Edin in two matches by a combined score of 14-4 is very significant and should give him a load of confidence. Edin has won a medal at the last two Olympic Winter Games (silver at the 2018 Olympic Winter Games in Pyeongchang and bronze at the 2014 Olympic Winter Games in Sochi). Epping's front end is new, as Laing joined him in the offseason from Kevin Koe's team, while Savill returns to high performance curling after a bout with cancer.
This is Epping's fourth career grand slam title on the World Curling Tour. He previously won the 2008 National as a second for skip Wayne Middaugh of Brampton, Ontario in Quebec City, Quebec, and then won the 2012 Players Championship in Summerside, Prince Edward Island and the 2015 Canadian Open in Yorkton, Saskatchewan as a skip.