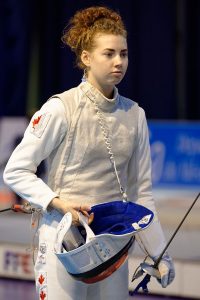 Eleanor Harvey of Hamilton, Ontario won a World cup fencing bronze in Tbilisi, Georgia on Sunday. She placed third in a foil event.
Harvey beat Yiting Fu of China in the round of 64, Sumire Tsuji of Japan in the round of 32, Anita Blaze of France in the round of 16, and Yue Shi of China in the quarterfinals. In the semifinals, Harvey was beaten by Anne Sauer of Germany. By reaching the semifinals, Harvey was guaranteed a medal as there was no bronze medal match. Ysaora Thibus of France won the other bronze medal. Martina Favaretto of Italy won the gold medal, while Sauer won the silver medal.
Harvey's two prior World Cup fencing medals were a silver in Poland and a bronze in Guadalajara, Mexico in 2022. There is no doubt that Canada does not has a rich history in fencing. Harvey is in the process of trying to change that. She was part of the Canadian team that finished fifth in the women's team foil event at the 2020 Olympic Games in Tokyo in 2021. Among her other accolades including winning the 2016 National Collegiate Athletic Association Championship with the Ohio State Buckeyes, and a gold medal in the women's team foil event at the 2015 Pan American Games in Toronto. The bronze medal in Georgia will give Harvey confidence as she prepares for the 2024 Olympic Games in Paris.